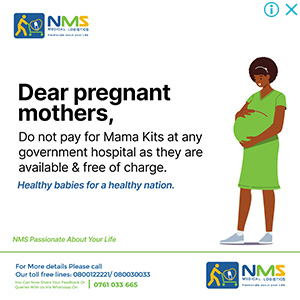 Daisy Nagawa, a 34-year-old mother of 2, in Amuru district, says she has delivered all her children with a Traditional Birth Attendant (TBA) in her neighborhood.
This is because the nearest health facility is 16 kms away from her home and lacks funds to transport herself there or to buy the necessary supplies during labor and Maama kits for safe delivery.
"I have no option but to rely on the Traditional Birth Attendant," she says.
However, the National Medical Stores (NMS) delivers Maama Kits to public health facilities and are supposed to be taken by expectant women, especially in rural areas, who are unaware that these items are free of charge.
The "Maama" Kits are designed to help women deliver in clean conditions.
They include baby sheets; soap; pads; gloves; a surgical blade; a sterilized chord for tying the umbilical cord and rehydration packages.
The pack reduces the risk of vaginal and eye infections, tetanus and diarrhea, all of which may occur in bad hygiene conditions.
National Medical Stores (NMS) General Manager Moses Mr Kamabare says mothers should not be charged for Maama Kits as they are procured and distributed to government health facilities by the government of Uganda.
"Like any other Ugandans, we hear that mothers don't actually receive these Maama Kits the way we send them. So, we would like to inform Ugandans that the Maama Kits are available and the mothers of this country are supposed to receive them free of charge," he said.
Mr Kamabare said the kits initiative aims at encouraging expectant mothers to visit and deliver from public health facilities where they can be helped in case of complications or emergencies.
He said expectant mothers should not demand for Maama Kits when they go for initial antenatal visits because the kits are supposed to be given out right before delivery.
"We cannot give you the Maama Kit for antenatal care. The kits are to attract you to deliver from a government health facility. So if you want it to take it to a traditional birth attendant, or elsewhere, it will not be given to you. But, when you come to deliver in the health facility, that is when this Maama Kit is given," he said.
The Maama kit was launched in Uganda in 2003 with support of the World Health Organization in an effort to reduce infections and deaths of mothers associated with poor hygiene and unclean delivery environments.
At the time of launch, it was estimated that about 60% of expectant mothers nationwide were delivering at home either by TBAs or relatives.
According to Amahoro Children and Community Team, the Maama kit also "improves the quality and utilization of reproduction health services, as they attract many mothers to attend Antenatal Clinics (ANC) with the opportunity to receive a free Maama kit."
The organization which promotes safe deliveries, says mothers are then also more likely to give birth at the health units.
According to 2021 figures from the Uganda Bureau of Statistics, the maternal mortality rate dropped from 438 deaths per 100,000 births in 2011 to 368 deaths per 100,000 in 2021.